COMMERCIAL HEALTHCARE IT SERVICES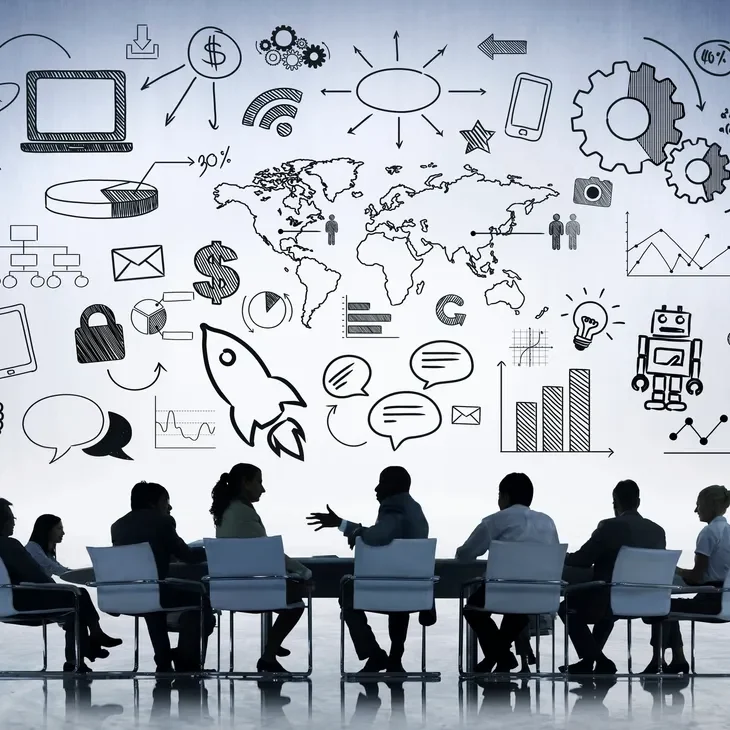 Enterprise Health IT Services
Our decades of experience in Healthcare IT services, enterprise architecture and business process analysis drive payer and provider efficiencies, improve employee retention and lowers risk exposure.
We can help with 21st Century Cures Act compliance. Will you be ready to respond to patient requests for their data as required by law?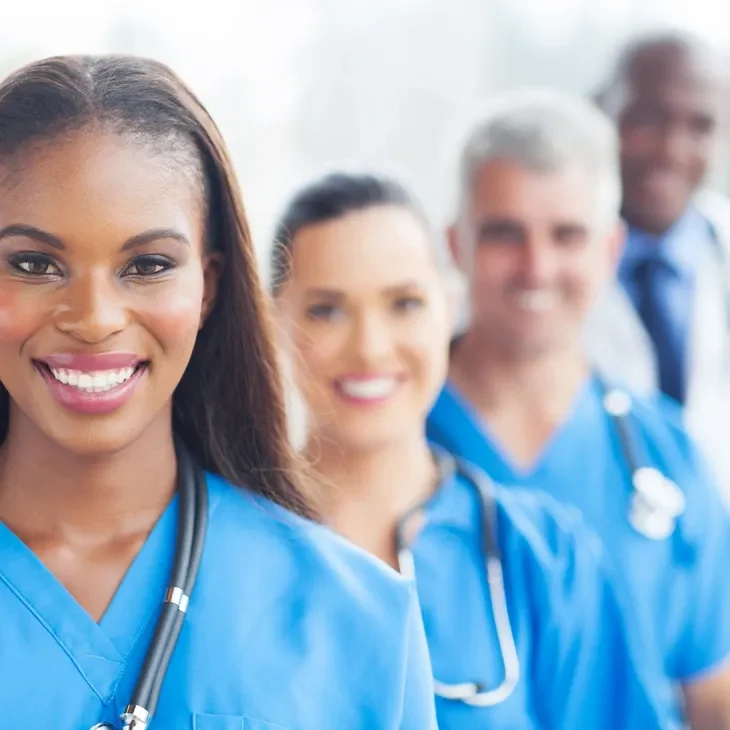 Health Informatics Services
Our teams of industry recognized thought leaders, clinicians and PhD's provide Informatics consulting services to improve the efficiency of your commercial healthcare IT services. Our clinical and IT backgrounds are foundational to our strategic approach to process improvement for data quality, terminology planning, data interoperability, standardization and HIE management.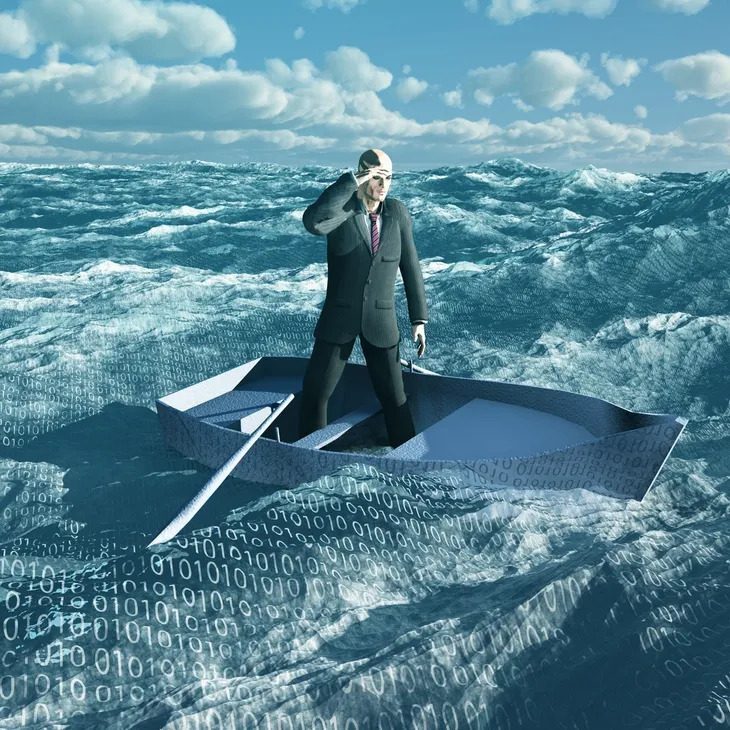 Clinical Data Quality Improvement
Our deep understanding of commercial healthcare IT services has convinced us of the critical importance of data quality improvement. Our informatics consulting services utilize clinicians, IT analysts, and data standards experts to track down root causes and avoid missing, miscoded and misplaced data.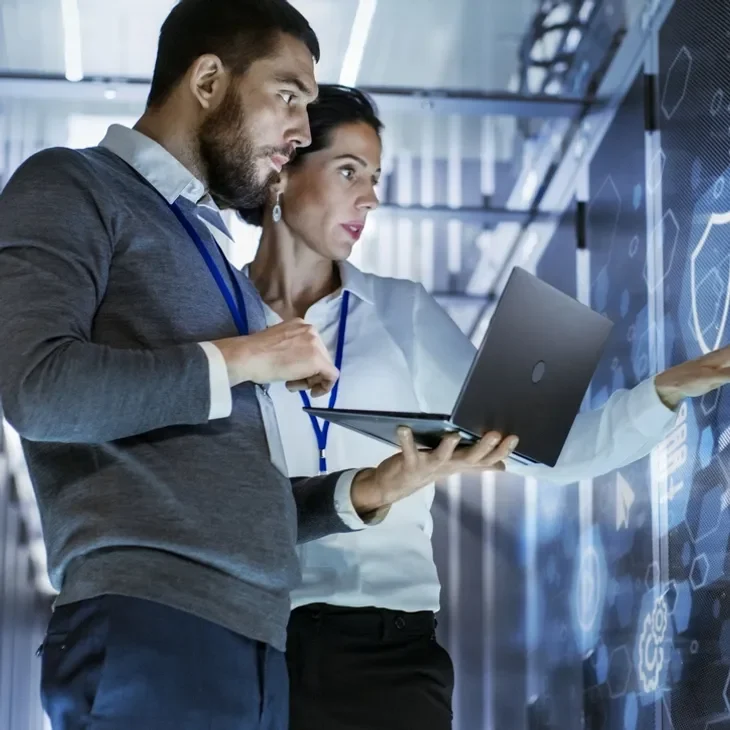 Clinical Data and Process Modeling
Our informatics consulting services include data and process models, which are a living way to document your business and IT processes and data assets. Using our commercial healthcare IT services to develop data models helps to identify and mitigate impacts to your enterprise data assets.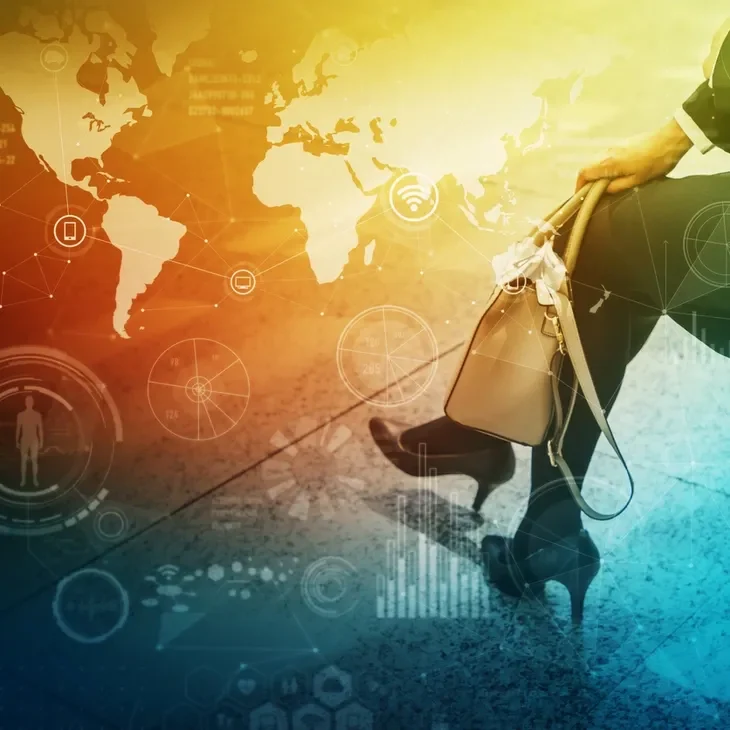 Managing IT Systems After Mergers & Acquisitions
Planning on buying another business soon or just bought one? We can help you integrate the two IT systems and plan how to make them interoperable.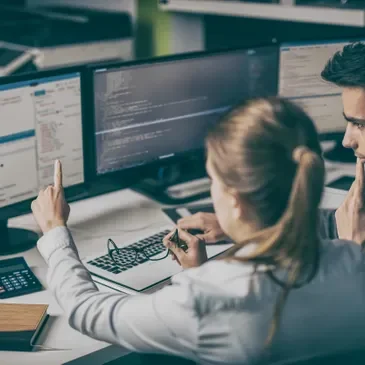 Secure Messaging is not just for large government agencies and mega hospitals anymore! It is for medium and small providers, too.
J P SYSTEMS CORE COMPETENCIES
The complexity of the Healthcare IT ecosystem requires deep expertise in informatics consulting services to keep risks manageable. As a trusted partner, J P Systems helps you plan, formulate strategies and anticipate the impact of changes to standards and legislation on operations.
Healthcare IT Informatics 
Since 1983, J P Systems, Inc. has  continually proven that we are a strong, dynamic, and passionate team with the ability to understand our clients' business requirements and  processes and deliver a customized Healthcare IT solution that fulfills their specific needs. We provide professional services for Healthcare IT systems architecture, interoperability, and business analysis.
Reputable company in Healthcare IT industry since 1998
Clinical Data Quality Improvement
Healthcare IT Data Standards - HL7 Data Standards
Data Architecture
Our diverse teams of Subject Matter Experts will move you farther and faster towards your goals of increasing interoperability and data quality.
Data Interoperability 
J P Systems improves the interoperability of clinical data through a combination of complex, in-depth efforts. We help clients standardize the coding of data (standardized reference terminologies) and message structures with clinical data. We map local terms to international reference terminologies to facilitate the exchange of meaningful data with their trading partners.   
Our services include:
Healthcare IT Data Standards Development and Implementation
Business Process Analysis and Improvement
Medical Terminology Standardization
Data Architecture / Metadata Development
Clinical Document Improvement (CDA's)
Healthcare IT Strategy & Policy
How will new legislation affect you and your organization?
Policy Formulation for Health Information Exchanges (HIE)
HIE Management
Communication Plans and Stakeholder Engagement
Employee Engagement and Retention
External  Trading Partner Engagement
Communication Strategies
Virtual Meeting Facilitation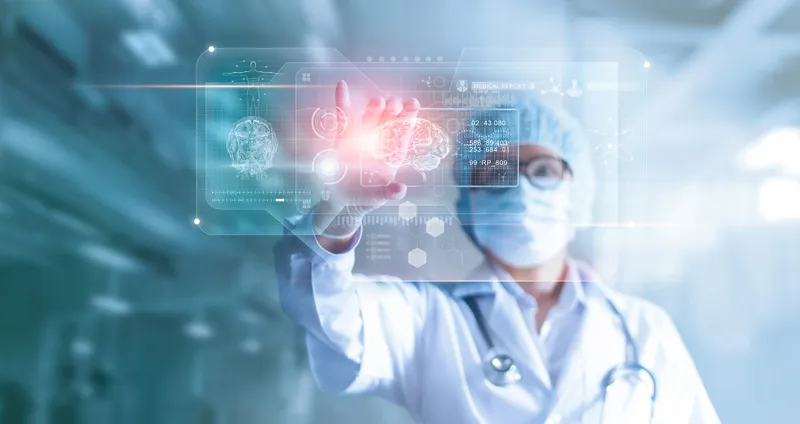 WHY WAS THIS DRUG - DRUG INTERACTION MISSED?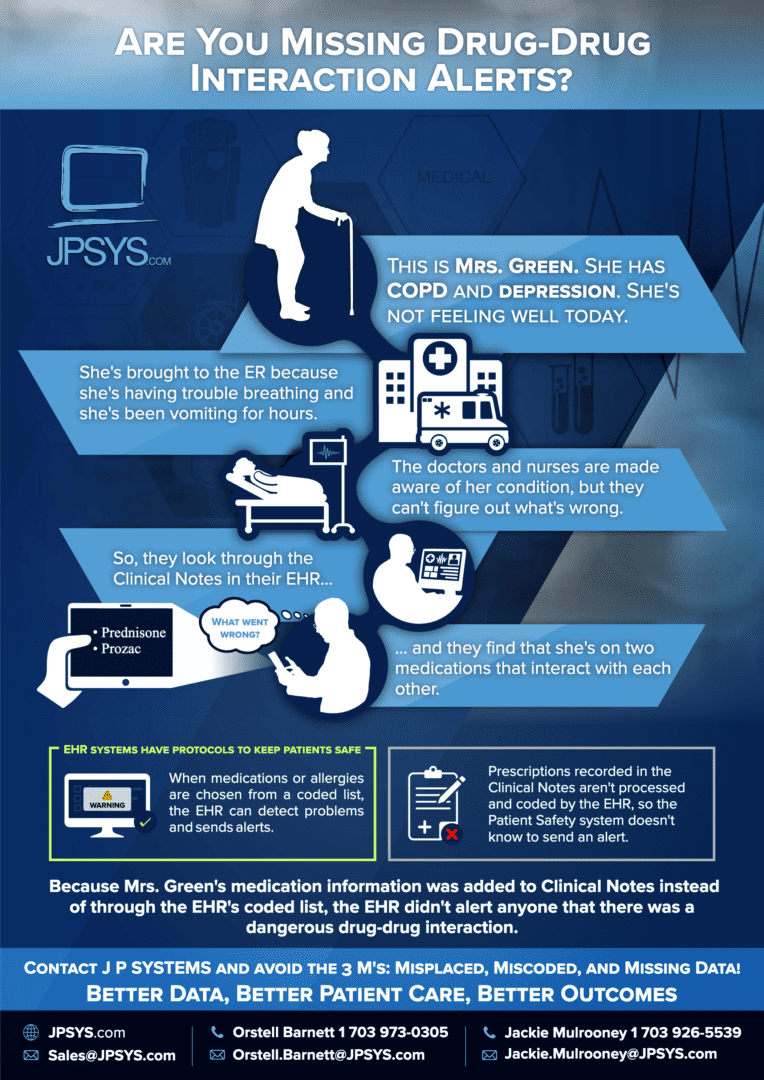 Although the name of the patient has been changed, this diagram is based on an actual case where a drug drug interaction did not produce an alert. The second drug was not included in the drug list but was 'lost' to the Patient Safety system in a text field.
This is why Better Data results in Better Patient Care and Better Outcomes! What could your EHR system be missing when data comes in from external trading partners?
 We are available to speak with you about your Healthcare IT concerns and risk management.
CLINICAL DATA AND PROCESS MODELING
Data and information models are components of data architecture and are data architecture artifacts. Clinical data is highly complex, ever changing, and always flows from the mission of the organization. A neonatal facility collects different data about patients than an Allergist or an ER. J P Systems has been building information models since 1998. We analyze clinical data, document the "As Is" state, and improve the workflows for streamlined business processes.
Domain specific knowledge is as important as technical knowledge to the proper construction of model designs. Data modeling is a critical step when embarking on a new domain design. We optimize and standardize the reference data to facilitate its exchange with other healthcare providers. The development of the HL7's US FHIR Core is a critical step in the nation's data architecture: US FHIR Core Data Elements.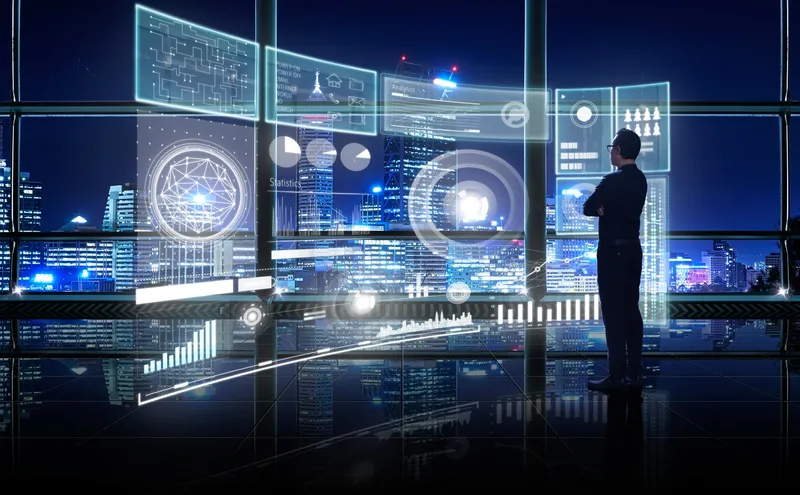 Information Architecture (IA) achieves data consistency by:
Modeling semantics and reference knowledge common to a wide range of artifacts.
Leveraging the semantics to ensure consistency across models and model artifacts.
Using the same semantics as a basis for logical and physical  database model generation, software component and service generation, rule development (e.g., in production rule-based systems), etc.
Logical consistency, validation, and reuse
Our design methodologies are finely tuned to increase interoperability within an enterprise, and between an enterprise and its data exchange partners. Standardized data elements are used to create a core of data used in the United States.
Data models help relate the Business Architecture (what you do as an organization) to the Information Technology (what you capture, store, and process). IA is the high-level description of business information and communications which enables the translation of business perspectives to and from your IT systems. Data Architecture occurs on a lower level, closer to that of your data files and their actual contents. Business Strategy and IA are closely related in that IA enables the existing Business Strategy and fosters new Business Strategies.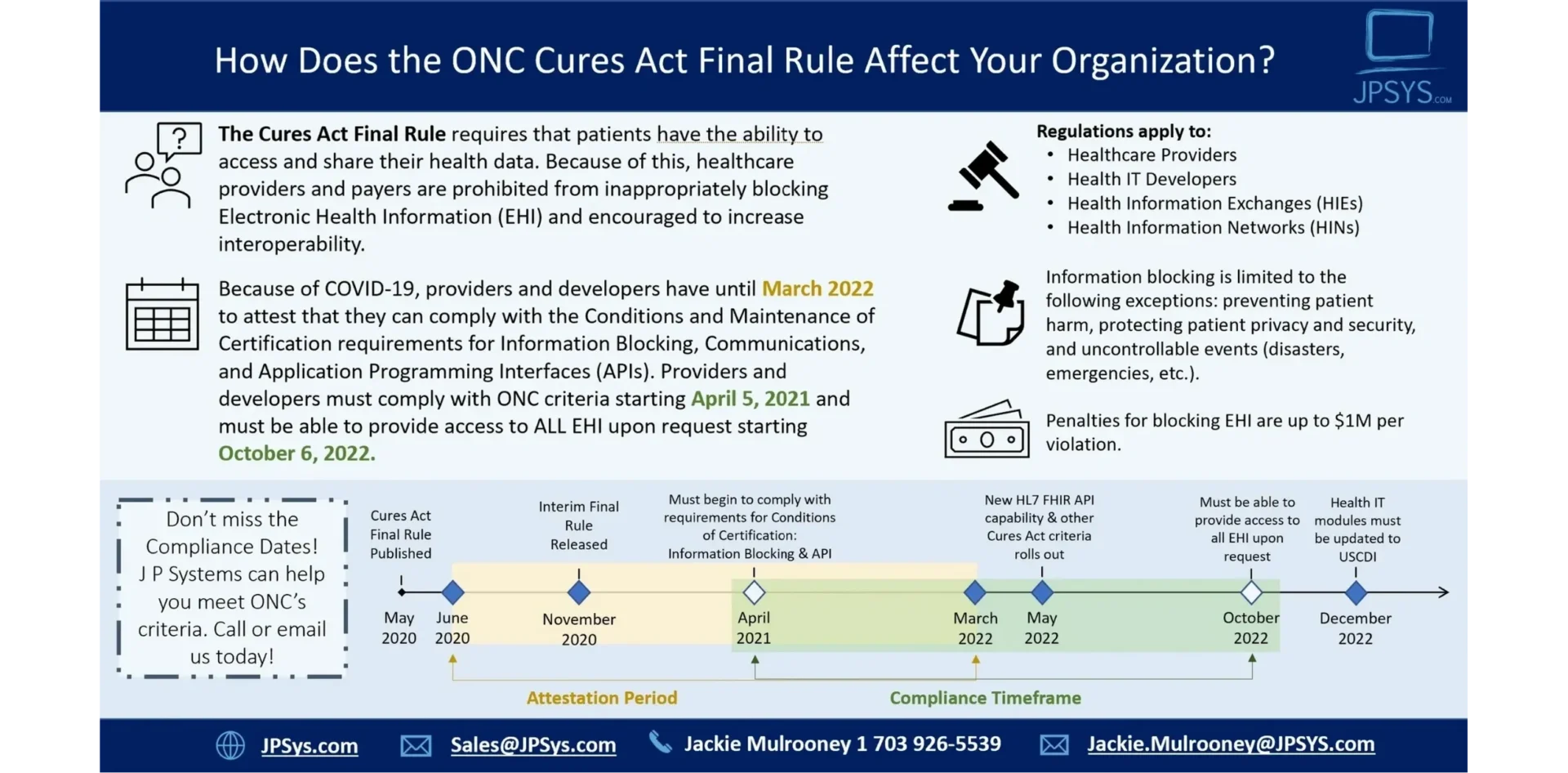 THE 21ST CENTURY CURES ACT TIMELINE
How does the 21st Century Cures Act Final Rule Affect Your Organization Now?
Empowering Patients with Their Health Record in a Modern Health IT Economy 
Are you aware that your patients can now require you to send their patient records to their mobile phones? The electronic exchange of clinical information has helped doctors, nurses, pharmacists, other health care providers, and patients to access and securely share a patient's vital medical information electronically—improving the speed, quality, safety, coordination, and cost of patient care.
The 21st Century Cures Act empowers patients to request their data be sent to a mobile phone app.
Are you ready?
Contact JPSYS to learn more about what is now being required providers.
The patient is at the center of the 21st Century Cures Act. Putting patients in charge of their health records is a key piece of patient control in health care, and patient control is at the center of HHS' work toward a value-based health care system.
The ONC 21st Century Cures Act Final Rule implements interoperability requirements outlined in the 21st Century Cures Act.  Patients need more power in their health care, and access to information  is key to making that happen.
Putting the patient first in health technology enables the health care system to deliver:
Transparency into the cost and outcomes of their care
Competitive options in getting medical care
Modern smartphone apps to provide them convenient access to their records
An app economy that provides patients, physicians, hospitals, payers, and employers with innovation and choice
The 21st Century Cures Act (Cures Act) was signed into law on 12/13/16 and was also designed to help accelerate medical product development and bring new innovations and advances to patients who need them faster and more efficiently. The law builds on FDA's ongoing work to incorporate the perspectives of patients into the development of drugs, biological products, and devices in FDA's decision-making process. Cures enhances our ability to modernize clinical trial designs.